CrossFit Rocks – CrossFit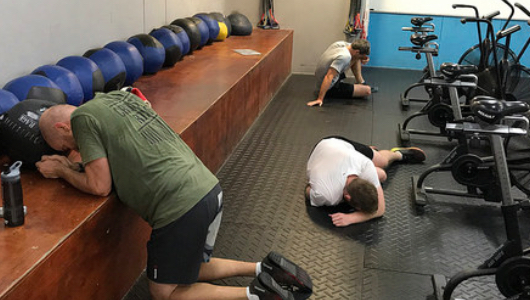 Assault Bike carnage.
Warm-up
Warm-up (No Measure)
Back Rack Mobility

1 minute Overhead with external rotation bias (each side)

1 minute Lateral Opener (each side)
Then,
2 rounds of:

20m Monster Walk

10 Lizard Crawl (5 each side)

20s Hollow Hold

10 Medicine Ball Bear Hug Squats
Then,
Lift.
Weightlifting
Back Squat (3-3-3-3-3)
The majority of CrossFit movements require healthy and functioning hips; Kettlebell Swings, Deadlifts, Box Jumps and Kipping Handstand Push-ups – just to name a few. Squatting is the root of healthy hips. It is the first foundational movement of CrossFit and one of the most beneficial. You can Improve your overall leg strength, core strength and hip mobility through squatting. The stronger you are at squatting, the more capable you will be at performing other hip dominant movements.
Advanced Athlete Extra Work
Metcon (Time)
3 rounds for time of:

12 Burpee box Jump Overs

9 Muscle-ups

6 Deadball Cleans 65/45kg
Gymnastics strength WOD
Metcon (No Measure)
3 rounds for quality;

5 kip swings

5 toes to bar

5 kip swings

5 pull-ups

Scale to hanging knee raise for both movements as necessary.