CrossFit Rocks – CrossFit
ANNOUNCEMENT:
Saturday's class will not be held at the gym, we will meet at Dunlop Park Pool at 6:30am. The workout is the games run, swim, run event (anyone not comfortable swimming will modify the workout). Access to the pool is $6.30 which needs to be paid before we start warming up and begin the workout. Breakfast at Same Same after!! See you there!!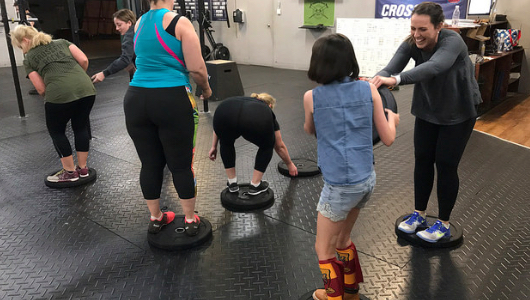 Evening squad!
Warm-up
Warm-up (No Measure)
100m row challenge

Then;

3 rounds

10m broad jump

10 handstand shoulder activations

Then;

Set up for WOD (practice parallette handstands and 'touch and go' rope climbs)
Metcon
Metcon (Time)
4 rounds for time of:

500-meter row

15 parallette handstand push-ups

1 rope climb "double-up", 15-ft. Rope
A "double-up" is a two-round trip from seated with only "touch-and-go" between ascents.
BRING SOCKS.
Masters WOD
Metcon (Time)
4 rounds for time of:

500m row

15 DB push press 20/15

2 rope climbs
Advanced Athlete Extra Work
Metcon (6 Rounds for time)
6 rounds each for time (time your fast 200m)

200m fast run

200m recovery run

*no rest in between
Gymnastics strength WOD
Metcon (No Measure)
5 rounds:

20 active/passive shrugs on bar

30 sec front support hold

https://youtu.be/oQ8v29oJqsE