CrossFit Rocks – CrossFit
Be sure to pick up anything that belongs to you from the mobility room ASAP!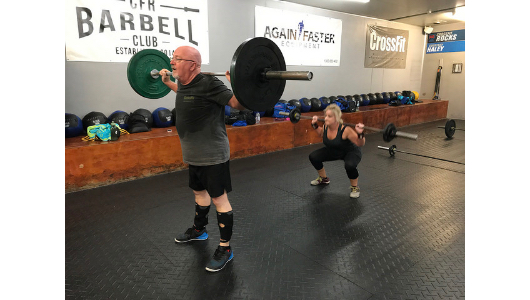 You know makes getting back into the gym harder? Not getting back into the gym. Commit, just do it, don't give yourself excuses. Then, it can start to gain momentum and before you know it, you have a habit.
Warm-up
Warm-up (No Measure)
3 rounds

200m run

10 broomstick overhead squats

20m overhead DB carry (10m L/10m R) – go heavy.
Then;
Mobility

– hip flexors in lunge

– adductors in straddle

– thoracic in bridge (scale this by doing a wall bridge, where you lean backwards to wall and walk hands down slowly, or putting hands on mats on the floor to raise them up)
Practice DB overhead squat and warm up weight – start light!
Warm up box jump

– start low and step down
Metcon
Metcon (AMRAP – Rounds and Reps)
20 min AMRAP

10 box jumps 36"

15 single-arm overhead squats 22.5/15kg DB

20 v-ups
Dumbbells are reappearing – will we see them in the open again? The open consists of five workouts completed over 5 weeks at CrossFit Rocks starting at the end of February. It is a fun challenge, and an opportunity to compete against 100,00's of other crossfitters from around the world (but, really it's just fun to try and challenge yourself!).
Advanced Athlete Extra Work
Metcon (Time)
For time:

150 double unders

50 toes to bar

150 double unders
*be smart. If you have taken a break from training and you are doing the class WOD, an additional 300 double under is not necessary. You can do this another day.
Gymnastics strength WOD
Metcon (No Measure)
5 rounds:

5 kip swings straight into

5 toes to bar (or kipping knees to elbow)

https://youtu.be/rp90cHN1Aj8