CrossFit Rocks – CrossFit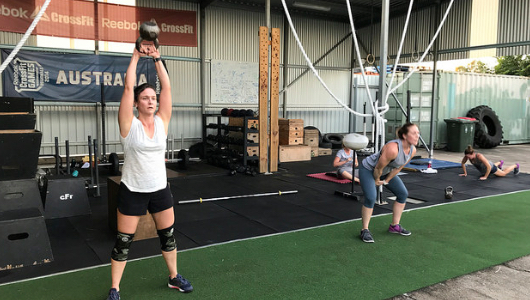 Hope everyone has recovered from Monday!
Warm-up
Warm-up (No Measure)
3 rounds

10 toes to rings

10 backwards single unders

10m walking lunges
Then;
For quality (2-3 rounds)

7 toes raises

5 toes to bar (scale to knees to armpit)

3 knees to elbow
Toes to bar practice (work on getting your first full toes to bar or linking together multiple reps)
Challenge;
1 pull up + 1 chest to bar + 1 bar muscle up

(add one extra rep after each successful attempt, i.e. 2+2+2, 3+3+3 etc)
Metcon
Metcon (Time)
4 rounds for time of:

15 box jumps

50 double unders

200m run
Men: 36-in. box

Women: 30-in. box
Masters

Men: 30-in. box

Women: 24-in. box
Lots of high impact today, be sure to roll out your calves before and after the workout. If you tend to get tight calves or have not done this volume of jumping in a workout, be sure to get in early and spend a bit of extra time on the bike or doing a jog to really warm up. Scale as needed and no rebounding if you have not got the capacity for large volume of jumping.
Advanced Athlete Extra Work
Metcon (Time)
3 rounds for time:

10 handstand push ups

20 alternating pistols

30 hip extensions
Gymnastics strength WOD
Metcon (No Measure)
5 rounds:

5 kip swings straight into

5 toes to bar (or kipping knees to elbow)

https://youtu.be/rp90cHN1Aj8