CrossFit Rocks – CrossFit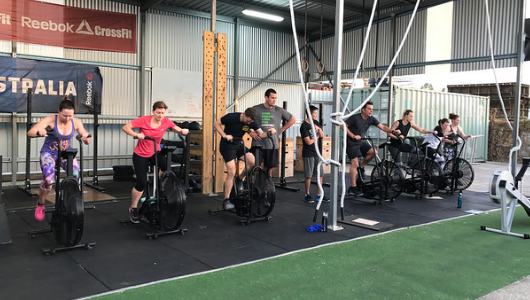 5:30am working through yesterday's WOD!
Warm-up
Warm-up (No Measure)
Pizza delivery game

Then;

2 minute "dragon" pose (lunge with elbows on floor) each side

2 minute pigeon pose each side

Then;

3 rounds

15 weighted hip extensions

12 hollow rocks

10m monster walk
Weightlifting
Back Squat (10-5-3-1-1-1-3-5-10)
How to I find my weight?
We should be familiar with what weight we squat for 5 reps, so for 10 reps we will drop this number down slightly (for the first set of 10). When you work back down the pyramid rep scheme, it is an opportunity to go heavier than you did on the way up. The challenge: do for 10 what you normally do for 5 x 5.
I've never done 5 x 5 back squat…
Great – that's what you need to do today instead!!
Advanced Athlete Extra Work
Metcon (Time)
5 rounds for time:

9 hang power clean 65/45kg

11 box jumps

15 GHD sit up
Gymnastics strength WOD
Metcon (Distance)
5 min AMRAP:

10 m inchworm with push-up

10 m bear crawl with straight legs