CrossFit Rocks – CrossFit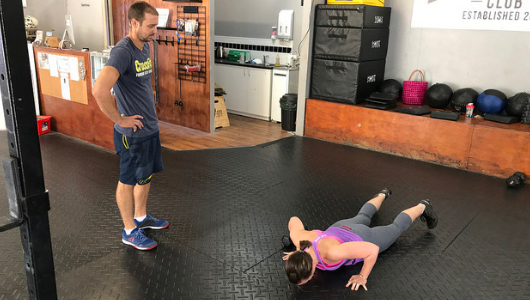 Couples that train together… have a better quality of life and have the fitness to play with their children!
Warm-up
Warm-up (No Measure)
5 minutes

Team row

Rotate every 10 cal
Today's gymnastics EMOM
Warm up on bar
Weightlifting
Back Squat (3-3-3-3-3)
A squat is the thing that allows us to stand up out of bed, get off the toilet, get out of the car and anything where we need to stand up from a seated position. Losing capacity in the squat means losing the ability to do those everyday things. Your quality of life is dependant on your ability to squat. People are in nursing homes not because they are sick but because they need assistance doing those daily tasks. We squat regularly to maintain capacity in that movement, and we can load it up to build capacity beyond what is necessary for everyday life, therefore putting more distance between us and decrepitude.
Advanced Athlete Extra Work
Metcon (Time)
For time:

30-20-10

Wall ball 30/20#

Ring dip
Gymnastics strength WOD
Metcon (No Measure)
5 min EMOM:

7 burpees + 5 toes-to-bar (or hanging knee raise)