CrossFit Rocks – CrossFit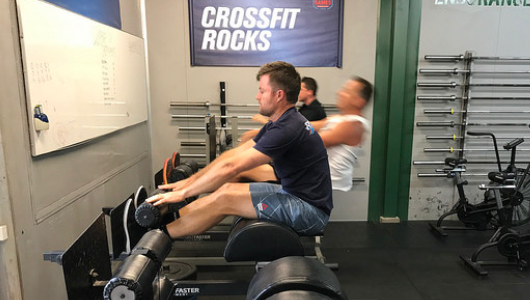 Try and accumulate 50-100 GHD sit ups this week (to half-way if you have not done full GHD sit-ups before)
Warm-up
Warm-up (No Measure)
3 rounds

30 seconds air squats

30 seconds burpees
Then;
Overhead R.O.M mobility

– 40m overhead carry (DM or KB)

– 1 minute hang

– 5 x 1 arm DB/KB press in the bottom of the squat (each side)
Use foam roller or peanut ball to roll out thoracic (add a weight on top if needed). Then repeat movements above.
Challenge:

#1. Cossack squat double KB/DB press

#2. Double KB/DB press in the bottom of the squat
Then;
Warm up back squat (and set up for workout)
Metcon
Metcon (5 Rounds for reps)
Tabata

Back squats 40/30kg

Rest 1 minute
Tabata

L-sit hold

Rest 1 minute
Tabata

Ring rows

Rest 1 minute
Tabata

Handstand hold

Rest 1 minute
Tabata

Row (calories)
The Tabata interval is 20 seconds of work followed by 10 seconds of rest for eight intervals. For L-sit and handstand hold, count the number of seconds maintained in the hold.
Advanced Athlete Extra Work
Metcon (Time)
3 rounds for time:

20 pistols

20 GHD sit ups
Gymnastics strength WOD
Metcon (No Measure)
6 rounds:

30 sec superman pulses

30 sec front support hold

No rest between exercises.