CrossFit Rocks – CrossFit
Warm-up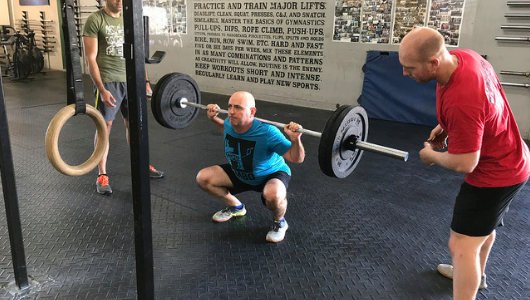 Rod performing back squats from last week.
Warm-up (No Measure)
Mobility & core stability

15 breaths 90/90 breathing (hips on floor)

15 breaths 90/90 breathing (hips off floor)

15 breaths in a quadruped position (sink back like a squat)
Then,
3 rounds of:

15 hip extensions

10m monster walk

5 goblet squats with 3 second pause at the bottom of each rep
Then,
Lift.
Weightlifting
Back Squat (5-3-1-1-1-3-5)
Lift heavy or learn how! Here are 3 important things to focus on when you back squat today:

1. Posture

2. Musculature

3. Brace
Posture: Unrack the bar with good posture. When you step under the bar, you should already be in a squat position – bum back, knees out and chest up.
Musculature: Engage the correct musculature. Plant your feet into the ground by squeezing your toes and turn the knees out slightly.
Brace: Brace through breathing. We want to fill the belly with air before the lungs. We are trying to tighten all of the muscles surrounding the abdomen to create natural girdle that protects the spine.
Advanced Athlete Extra Work
Metcon (Time)
For time:

5 mile Assault Bike
Gymnastics strength WOD
Metcon (No Measure)
5 rounds:

5 kip swings straight into

5 toes to bar (or kipping knees to elbow)

https://youtu.be/rp90cHN1Aj8